Cummins Inc. was started in 1919 in Columbus, Ohio. Ever since that day, they have built a reputation as a leader in diesel engines. When most hear Cummins, we almost immediately associate it with Chryslers Dodge Ram pick up line. But the Cummins built engines can be found in a wide range of equipment and vehicles.
In 2016, Nissan began offering a completely redesigned Titan XD that utilizes a 5.0L V8 Cummins diesel motor, capable of producing 310 HP and 555 ft. lbs. of torque.
When it comes to "American Made", Nissan takes the cake with the new Titan XD. From the core planning, engineering, and design that takes place in Tennessee, California, Michigan, and Arizona to the actual assembly taking place in Mississippi, and of course the powerhouse Cummins which is created in good ol' Tennessee (and some in Indiana), the Titan is a true, American-made pickup truck.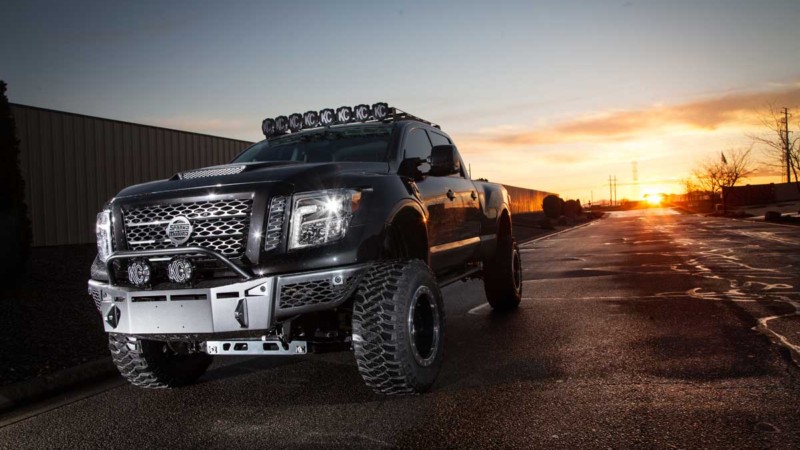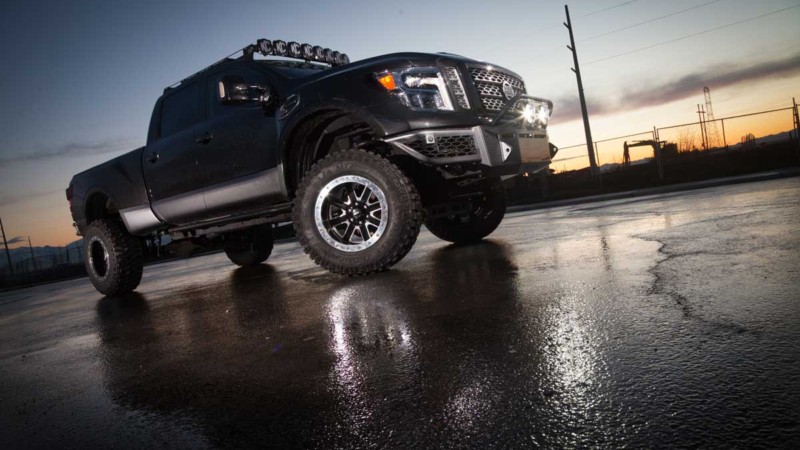 THIS 2016 NISSAN TITAN

HAS HAD A COMPLETE FACELIFT
Heavy D originally brought this 2016 Titan XD into the shop back in mid-2016 in its stock form and somehow it managed to stay that way for nearly six months as it fulfilled his daily driver needs.
Heavy D recently picked up a new daily driver and that's when the Titan went under the knife. We now introduce to you the latest Sparks Motors build and our newest giveaway truck – The Titan. This 2016 Nissan Titan XD has been given a complete facelift and we couldn't be happier with the results.
We started with a 6 inch Calmini lift kit with adjustable tubular upper control arms that gets it up off the floor and provides room for the 37″ Mickey Thompson tires (or the included set of American Track Truck Dominator series tracks)!
McNeil Racing came through with a full set of fenders and bedsides that widen the appearance of the truck, as well as provide coverage for the wider stance and tires.
Our good friends at Fusion Bumpers helped us out with some custom built bumpers (front and rear). Up top, we threw on an M-Racks Stealth Series Roof Rack that sports a 50″ 8 light KC Hilites Light Bar.
Ready to pull, play, explore and get you back by dinner time. This truck is the perfect daily driver and weekend warrior for just about anyone.